PHOTO: Cardinal DiNardo attends Pallium Mass at Vatican
June 30, 2011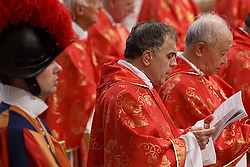 Photo by Catholic News Service

Daniel Cardinal DiNardo attended the Mass celebrated by Pope Benedict XVI on the feast of Sts. Peter and Paul in St. Peter's Basilica at the Vatican, June 29. During the liturgy, the pope presented a pallium to 41 archbishops from 25 countries. The woolen pallium is a sign of the archbishop's communion with the pope and his pastoral responsibility as shepherd.

Among those who received the pallium were four prelates from the United States, including Archbishop Jose H. Gomez of Los Angeles. Archbishop Gomez previously served in the Archdiocese of Galveston-Houston before being named Archbishop of San Antonio. He was appointed co-adjutor archbishop of Los Angeles in April 2010 and officially became the LA Archbishop this March.